ONLINE BOOKING
ONLINE BOOKING
* By booking any of the services offered by Izak Fouche Golf, I hereby give express consent and clearly agreed to receive a commercial electronic message form Izak Fouche Golf. Please see refund and cancellation policy.
Be Better

Than Your

Best!
​
Our lessons include the use of Flightscope Radar systems, BodiTrack and FocusBand. We provide our students with video feedback during our sessions.
​
During our time with you we will assess your needs and goals for you to take your game to the next level or if you just want to have fun and learn the game our instructors will guide you in the right directions.
​
Students should purchase the balls for private lessons, ladies clinics, adult clinics and Junior Programs at Within Range Golf Centre, Burlington. However for 1/2 Golf Camps the golf balls will be provided.
​
LOCATION:
Within Range Golf Centre, Burlington
​
​
Lessons take place at FarAway Greens, Burlington and should be booked in advance via the online booking options, no walk-ins allowed.
​
Winter Lessons are ideal for working on you swing fundamentals and drills to improve movement patterns.
​
PLEASE NOTE: Students do not need to book or pay extra for the simulator during our scheduled time.
​
LOCATION:
FarAway Greens, Burlington
Please note lessons does not carry over to the next season. Please see our Policies link for details
Welcome to our secure online payment page. Feel free to shop and pay online for yourself or loved once. Please contact us at info@izakfouchegolf.com if you have any questions.
Featured Products
Summer Outdoor Golf Lessons
Over the years, Izak has established himself as one of the premier golf instructors and club fitters. Izak taught golf in South Africa and in the USA before making Canada his home.
Whether you're just starting out or want to take strokes off your game, Izak's team of Professionals at Within Range Golf Centre, Burlington (Summer Location). We provide services from beginner to tour players. Please note students need to purchase balls at the range and lessons does not include the balls.
Family Golf Session
Great for the family to share and enjoy golf
Pro Shop
We are in the process of providing our clients with the Training Aids to help them improve at home or the range.
Custom Golf Bag Logos
Get your bag customized with either your name and a logo.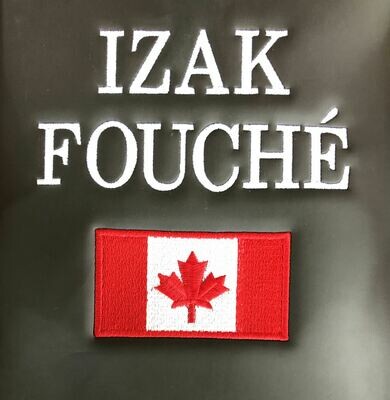 Name and Canadian Flag Embroidery
Name and Canadian Flag Embroidery
Being Canadian and Loving it!
Indoor Winter Golf Lessons
The indoor golf lessons will take place at Faraway Greens, Cost for lessons includes the cost for the simulator bay for 60 minutes.
3070 Mainway, Burlington Ontario L7M 1A3.
Each 60min session consist of 40min lesson PLUS 20min in the simulator after the lesson.